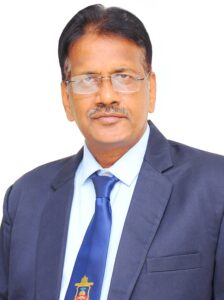 Prof. Subhash Chandra Parija
MBBS, MD, PhD, DSc, FRCPath,
FAMS, FICPath, FABMS, FICAI, FISCD, FIAVP, FIATP and FIMSA
Dr Subhash Chandra Parija is currently the Vice-Chancellor of Shri Balaji Vidyapeeth, Pondicherry. Prof. Parija is a former Director, at the Jawaharlal Institute of Postgraduate Medical Education & Research (JIPMER), Pondicherry is having nearly four decades of teaching and research experiences in Medical Microbiology.
Author of sixteen books including most popular "Text Book of Medical Parasitology ", " Textbook of Microbiology & Immunology ", etc. .,  Prof Parija has published more than 400  papers both in the National and International journals of repute. Some of his papers are quoted in textbooks and serial publications. His publications are highly cited and more than 150 of his papers were cited more than 10 times.
Prof. Parija has worked primarily in the medical parasitology. He has contributed extensively in several areas related to molecular parasitology, parasitic serology and immunology; epidemiology of parasitic diseases of zoonotic importance and stool microscopy. The development of simple, economical and rapid diagnostic tests in serodiagnosis of parasitic diseases and epidemiology of the parasitic diseases was Prof. Parija's research interest. Prof Parija was the first to demonstrate that parasitic antigens are excreted in the urine in hydatid disease and cysticercosis, and urinary antigen could be detected for diagnosis of these two diseases.
Prof Parija and his team were first to document and report the prevalence of Entamoeba  moshkovskii from India, evaluate a multiplex PCR for the first time for simultaneous detection of Entamoeba histolytica, Entamoeba dispar and  Entamoeba moshkovskii in stool specimens for diagnosis of intestinal amoebiasis, reported for the first time detection of  Entamoeba histolytica DNA in the urine for diagnosis of amoebic liver abscess
In recognition of his immense contributions in research in parasitic diseases, Prof Parija has been honoured with more than 26 awards both international and national such as BPKIHS Internal Oration Award, Dr BC Roy National Award of the Medical Council of India, Dr R.V. Rajam Oration Award of the National Academy of Medical Sciences, Distinguished BHU Alumni Award of the Banaras Hindu University, Dr. SC Agarwal Oration Award of the Indian Association of Medical Microbiologists, Dr BP Pandey Memorial Oration Award of the Indian Association of Medical Microbiologists, etc.
Among others, Prof Parija founded the Indian Academy of Tropical Parasitology, launched a Scientific Journal Tropical parasitology, initiated a quality assurance programme in diagnostic parasitology, and mentored students both undergraduate, postgraduates, PhD scholars and young faculty to peruse their interest and carrier in parasitic diseases of public health importance.
The current areas of his interest include E-governance, Integration of communication technology in medical healthcare and medical education including effective medical communication.
For a detailed bio-data, kindly e-mail at [email protected]